Well, the day came. Our big Hawaii/Alaska Trip! We've been planning on it for a couple of years and even had our VRBO house paid for since last summer. We left just a little after 1am to head to the airport. We arrived at Lois' house about 4:30am. Jeff graciously drove us to the BWI airport. We made it through security, with peanut butter, jam and all our food! There was a dog there which was awesome so security was pretty easy. Shanna forgot her glasses in the Chevy though.



Waiting for the first leg of the flight to San Francisco!



We didn't bring any electronics for the kids on the plane and it was awesome. Clark used a phone to text his friends at the airport stops, but of course it wouldn't work on the plane. The kids had a bunch of snacks and picked out some toys/activities to do on the flight. The first flight was about 6 hours.



We switched planes a lot on this trip so there are a lot of plane photos!



The boys had fun with the Legos on the plane.



Haley set up her own little sanctuary on the place. So cute!



The kids listened to music and books on the trip.



We made it to San Francisco! I spotted a See's Candies store. A lady on my LDS mission bought be See's Candies a couple of times. We all shared a box. So yummy!



I was on the plane as well! Often three people were able to sit together, and another three people. I always took the odd seat out and sat by myself. I didn't mind.



The kids loved getting wings!



Lee and I were able to snag this empty row!



Our last stop...we made it HAWAII! We switched planes at the Kula airport. State #49 under our belts! Though, Lee already had this state. And here is where our smooth trip fell apart. Not really, but kind of.



Thankfully we are still smiling... We found out we had to go to a different gate not a big deal, except we had to LEAVE the airport and go back through security. Ugh. All that awesome packing! All that food in everyone's carryon. NO NO NO! Of course security was VERY picky when we went back through. They wanted ALL food out of our backpacks. They threw away our peanut butter, jam and pudding. We caused a big hold up in the security line. What else did they expect? Ugh. It was very frustrating. And I had to leave the security line and go back through it again because they found a water bottle with water in it and I didn't want them to throw it away. The airport is doing some remodeling so there will be just one security and you don't have to leave the airport to go to a different gate. Why in the world do they even have that anyway??!! We finally got back through security with messy, packed luggage. We found some ice pops at a little store for the humid, warm afternoon.



Headed to Honolulu!



We made it to the car rental place.



Our fun ride for the next five days. We are used to the roominess with the Suburban, but worked out being the the Armada in Hawaii.



We stopped at Costco and grabbed a few things and had dinner then headed to the rental. We were all wiped out. The speed limit is very low in Hawaii and the roads around the island are more like city roads than highways. We stayed in Kahuku which is about an hour from Honolulu. If the roads were different and the speed limit higher we would have been to the rental in a half hour or under. Also, I would have not stopped at Costco. Walmart would have had good prices as well and smaller quantities. I was limited on my choices at Costco.

Our first full day there Cal and Elden were up about 1:30 in the morning. We heard them because they were being kind of loud and we told them to be very quiet. Lee and I were so tired. They were quiet and we slept longer. Lee did take the younger kids to the beach near the house about 6am or so.



The rental house was by a golf course. We walked across the golf course a little bit, up a hill, then down to the beach. Only about 7 minutes away! And very private which was nice.



The little crab was caught in the wave!



Also our first full day was Cal's birthday. After breakfast the kids went back down to the beach by our house.



At the rental house there were boogie boards, goggles, and water shoes. So nice!



Next up we drove to Honolulu to spend the rest of the day on a hike and boat ride. The kids all fell asleep on the way there.



We went on the Wiliwilinui Ridge Trail. It is now an infamous hike termed the Mud Hike. Driving to the trail head was fun because we drove through an expensive Honolulu neighborhood. It was fun!



Many of the kids were grumpy because they had just woken up and one of the kids, cough cough, unnamed, stayed grumpy the whole hike.



We were not prepared for this hike at all. The kids had their regular clothes on, not hiking clothes and Clark wore his casual shoes. I should have insisted that he wear his athletic shoes, but didn't. I didn't realized how muddy the hike would be. Thankfully Lee and I brought extra clothes. But I am SO glad we went on this hike! It was gorgeous, crazy, steep and memorable. Yes, we all got muddy. Hence the Mud Hike! And it was fun hiking on the mountain ridge.



Like some of the stairs in places? Washed out with just the top of a board to step on.



Awesome views. Too bad it was so cloudy, but we still had some great eye candy.



On the steep ridge!



Love the cloudy, high up in the air look.



Steep and tropical.



We also ran out of water on our hike. Looking back we should have packed our Camelbaks. We didn't want to bring them to save room, but they really don't take up much room. With over a mile to go, maybe even two miles, Lee was rationing the water giving the kids two lids full of water at a time. When we got back to the Armada we were sweaty, muddy and thirsty! We were going on a boat/dinner ride that night and I wanted to look halfway decent. Clark needed a completely different outfit, so we headed to Walmart. Wow, the Hawaii Walmart stores are so fun! Lots of cute things there! And the prices weren't too bad. I got these cute coin purses for the girls. We found Clark an outfit of shorts, shirt and flip flops for about $15. I also bought the girls new socks and Haley a new shirt because her's had mud streaks on them. We had fun at Walmart though looking around and buying a few items.



Before we headed to the boat we went to a Wendy's to grab something to eat quick for a late lunch. We arrived and there was a really long line. We decided not to eat there. The kids were pretty hungry. We just had more snacks. And the Walmart did not take off the tag for Clark's shorts. Ugh. Thankfully Lee's shorts from the hike were fine so Clark wore those.

We went on a catamaran dinner/sunset boat ride. I got a great deal on it because of Groupon. YAY! I didn't realize that people were going to dress up. We had decent clothes on, but muddy shoes. I wish everyone would have had an extra pair of flip flops! Oh well.



There was a yummy buffet dinner on the boat.



We loved sitting up front on and by the nets.



I loved this outing. It was worth every penny!



We received one drink voucher each for the evening. Cal loves club soda and the lady said she could just have it without using his drink voucher. He kept getting club soda over and over. Shanna did too. Lee and I were thirsty and were drinking that as well. Thanks guys! Nice birthday bonus for Cal. And I was really glad that Cal loved the boat ride because it was his birthday.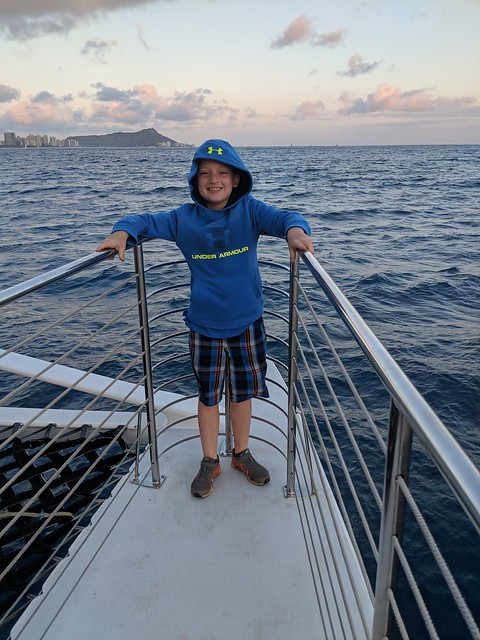 Ahh, such a great time. It was so peaceful and wonderful. After the boat ride we walked to Waikiki beach since we were parked right by it. There was even a pay phone!



Love Hawaii! Can't wait to explore the other islands.



We went back to Walmart that night to get the tag taken off of Clark's shorts. I thought we were going back to the same Walmart, but ended up at a different one. We bought more fun things and some ice cream sandwiches to end the day for Cal's birthday. And some ice cream to bring to the rental to eat on Sunday.



We loved our first full day there!