We made it to our second reunion this summer to Sharon, Vermont. We woke up early Saturday morning to travel to Vermont for the Elden and Lena Bartholomew Family Reunion. My dad was "in charge" of the reunion this year and wanted to hold it in Sharon, Vermont where Joseph Smith was born. We met at the visitor center there. I enjoyed visiting with some of my cousins who came.



Here is the outer foundation of the house that Joseph Smith was born. Not very big! Joseph Smith Sr. and Lucy Mack Smith lived on the Solomon Mack farm for a time---Lucy's father.



After spending some time at the visitor center we headed over to Camp Joseph, which is a church camp. Clark headed out with some second cousins to go kayaking. Sadly none of us had a clue as to the lake's location, and no one asked. In the end the lake was very, very close, and Clark and crew wandered around for about an hour or so hiking around with kayaks. They never made it to the water.



Some people made it to the water!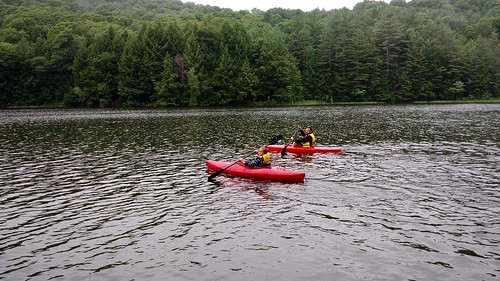 The main lodge was great. There was a big fireplace inside and a terrific view of Vermont greenery/scenery. I kept thinking, wow, it would be so fun to be snowed in here! Someday I would like to go to Vermont during the winter, rent a cabin, go skiing and be cozy in a cabin.



We had a great family meeting. I even heard some cool family stories!



Normally we do pie eating contests, but since all of us were traveling so far, no one volunteered for the task. I did think of one game that would be fun, and easy to transport: a pudding cup challenge. The contest was to see who could drink the pudding the fastest with a straw. It proved quite difficult. Not a pie eating contest, but still fun.



On Sunday we enjoyed going to church at the nearby church building. Sadly it rained most of the time we were there or else we would have walked to church that morning. The church members have such a pretty church building with lots of woodwork and trim. We had a big crowd visiting, which I think is always fun. I love seeing how many rows we can fill up in the chapel with just my family.

My cousin Cindy mentioned how she loved hearing the comments and testimonies of her other cousins while at church--definitely a benefit of staying for all of church! I didn't think much of it till lately. We would have missed out hearing those wonderful things if we had only stayed for sacrament meeting.

It happened to be Cindy's birthday that day too--the big 45! We didn't have a cake, and did even know that it was her birthday! I had a rare creative streak and thought of a little something for her to blow out---a big marshmallow number.



We stuck a match in each marshmallow. I was determined to light all the matches. There were four of us and I thought it would work. One of my nieces kept blowing out a her match, but right over the matches we wanted lit, so that was counter-productive, ha ha.



We finally ended up singing to her.



Not bad for camping, right?!



Later that afternoon the kids enjoyed each other outside and later we went on a walk to see the foundation of Solomon Mack's home and Solomon's son's house that was also on the same property.



We slept in cabins while we were there and had a great time visiting and eating! Thanks for hosting the reunion Mom and Dad! I'm glad we were able to attend. I've loved showing my kids church historic sites that I visited when I was a kid/teenager.