The kids had a lot of fun activities the last part of March. Their friend and neighbor, Michael, invited all of the kids to his birthday party. His grandma makes awesome cakes!
Michael's mom made some "light sabers" out of pool noodles. They turned out really cute.
I regularly listen to Dave Ramsey's radio show. I pull up the archives on my computer through his website and listen to his shows while I'm cleaning and doing laundry and what not around the house. I heard that there was a special announcement so I listened to the show live that day. He announced a new, free budgeting website
everydollar.com
. I enjoyed hearing the announcement live and checking out the website. It looks pretty nice! I LOVE to budget. I think it's so important that everyone have a plan for their money. Go to
everydollar.com
and check it out!
On to more fun...Elden had another field trip. I recently went on one with him to the local library, but didn't take any pictures. But you have all seen our library here at one time or another. Elden's field trip was to the children's museum this time around.
The kids were able to build a craft to see if it would float. Elden's did!
I have enjoyed seeing Elden make friends at school this year. He seems to be liked by everyone and has some good buddies.
Shanna loves doing pretend picnics and what not outside. Often if the kids are watching a movie inside, she'll be outside playing.
For Cal's monthly pack meeting there were lots of games for the cub scouts and family members to play. The kids had a great time. Clark was at the church, but at a scout meeting preparing for his first boy scout campout.
The oreo game is always fun.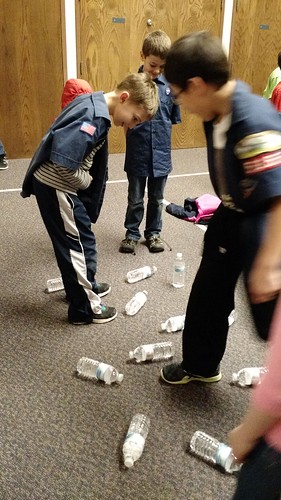 I had fun wrapping my girls in a game.
There is an obvious height difference!
Elden liked getting in on the action too. Who wouldn't want to be wrapped up?! Ha ha.
Fruit pizza for dessert!
Either Elden ate all of the fruit first, or he just wanted "pizza". Not sure.
For some parent fun, Lee and I went out for lunch one afternoon. There are some yummy restaurants here in town. One of them is Goodfellas. Love their calzones.
The onions rings are very yummy too!
Along with the hard things in life, it's always nice to have some fun times together too. Hope you've been able to have a bit of fun lately!